"We love England, it's a wonderful country." Mohammad Altaf, Pakistan 1942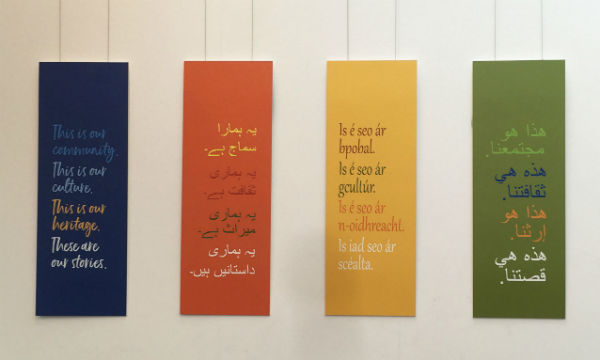 After arriving, Irish and Pakistani communities lived and worked side-by-side.
There have been struggles; global politics and violence has brought negative attention to both the Irish and Pakistani communities in their turn. And the decline of industry resulted in job losses and economic decline in Cricklewood. But the people have continued to flourish, with second and third generations succeeding in higher education, becoming professionals, politicians, business owners.
The Elders passed on these words of wisdom to the younger generations:
"I learned over the years that they [Pakistanis] are quite similar to Irish people in certain ways, as regards to family etiquette and respect; how the parents were looked after, how the grandparents were looked after." Jemina Sweeney, Dublin, 1946
"It was quite interesting how some of [the Irish] life experiences matched to ours. … the family system … coming over here to improve their living…" Jamila Anwar, Jhelum, Pakistan 1960
"Two cultures can meet, two cultures can live side by side, merge with each other. Keep your identities, just get along." Mohammad Sajid, Karachi, 1964
"Stop complaining about the country; it's a great country, y'know." Michael Troy, Offaly, Ireland, 1942
"Get an education and go to work. Stand up for yourself!" Michael Kevins, Kerry, Ireland, 1945
"Without study you can live your life, but it's not that bright. When you are educated, your mind is bright, you look forward, your mind is open. And you can go anywhere in the world and make your life nicer. But keep your own identity, you know; don't lose your identity. Because this culture isn't just one culture, it is a mix of cultures. So everybody has a right to his own culture." Parveen Qureshi, Rawalpindi, Pakistan, 1943