20.04.2021
Support Groups - As we emerge from Covid lockdown restrictions we are enjoying being able to roll out our support groups on a much bigger scale. Throughout the pandemic we have offered one to one support sessions and small support groups. We are enjoying have our customers back in our Side Door Café garden and being able to offer some gentle seated exercise sessions, have a cuppa and a chat in company. Our support group sizes are limited and we are welcoming participants. If you know anyone who might benefit, please get in touch by emailing wellbeing@ashfordplace.org.uk or telephone 020 8208 8590 and speak to one of our team.
Digital inclusion - our clients often continue to struggle with accessing services because of the digital divide. We have a library of laptops and tablets that we make available to clients to use supported by a member our team. All age groups avail of this service to access a range of services e.g. updating their Universal Credit account, making GP appointments, renewing bus passes, applying for blue badges etc . This area of work is closely linked to our crisis intervention work. In the coming months we will have more volunteers available to help users gain more traction in fine tuning their IT skills. If you know anyone who is interested in advancing their IT skills or getting the most out of their phones please get in touch and we will get them booked in. email info@ashfordplace.org.uk tel 020 8208 8590.
Irish passports - we can help with on line application for passport renewals. Don't let your passport expire as it might not be long now before we can travel again. Bring your digital photo to us and we can process the application nice a quickly for you. To book an appointment please phone 020 8208 8590
Volunteers needed - if you think you can help us with kitchen portering or have barista skills or help run our art and craft/cookery/walking/gardening groups or are trained in gentle exercise or want to support our befriending programme or have office skills please complete the volunteer application form.
Things we always need - please click here>>.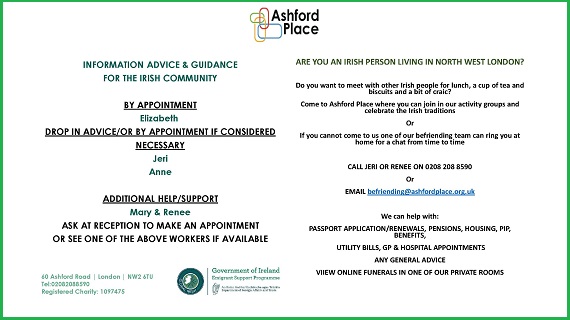 Click here to download leaflet