We don't need Volunteer Weeks to recognise and celebrate our band of volunteers here in Cricklewood but Volunteer Week 1 – 7 th June reminds us of the wonderful selfless contribution of people in Brent and beyond. There are so many examples of the support that our volunteers are giving each day and in particular during these Covid-19 times. Our volunteers are delivering meals, making that vital face to face – at a distance – connection every day, making phone calls to our vulnerable clients, writing cards, letters, helping them to resolve a variety of problems, going for social distancing walks with individual clients, encouraging and guiding them on how to use tablets, and many more examples of great work every week. Thank you volunteers. Our clients couldn't not survive without you.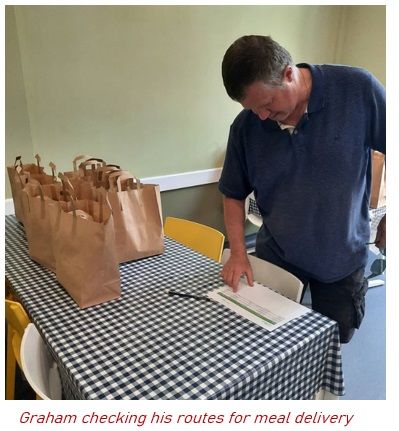 Our volunteers have been finding ways to stay in touch with all our members this has included phone calls, letters and cards. Now that lockdown has changed, we are now able to go for a socially distanced walk or engage in a door step chat and cup of tea!
Today we hear from Vivienne when she caught up with Mary.
Today Mary (Rose's) daughter came out for a visit. Rose was supposed to come but thought better if it.
The Dell is still in lockdown, so Mary spent some time in my garden and we enjoyed the beautiful weather.
She knows I have a penchant for cake! She brought me some delicious cupcakes. She's very kind.