03.08.2022
The Dementia Cafe at Ashford Place meets every Tuesday from 2 - 4pm in the Cafe at Ashford Place. The DeCafe will be open on the following dates in August - the 2nd, 9th and 16th. There will be no afternoon cafe meetings on the 23rd or the 30th of August. Regular Dementia Cafe meetings will resume on Tuesday September 6th at 2pm.
The past 6 months has been a very busy and exciting time for Café visitors who have enjoyed a wide range of inspiring and stimulating activities aimed at supporting their mental and physical wellbeing. Maths and language puzzles are popular and making shapes using 7 mathematical Tangram shapes has proved challenging. Quizzes, word searches, drawing and art activities are always well received. Laughter, chatting, music, singing and dancing are all part of the afternoon's programme with popular in-house singer and guitarist Alejandro, (Ashford Place's venue manager) regularly joining the group.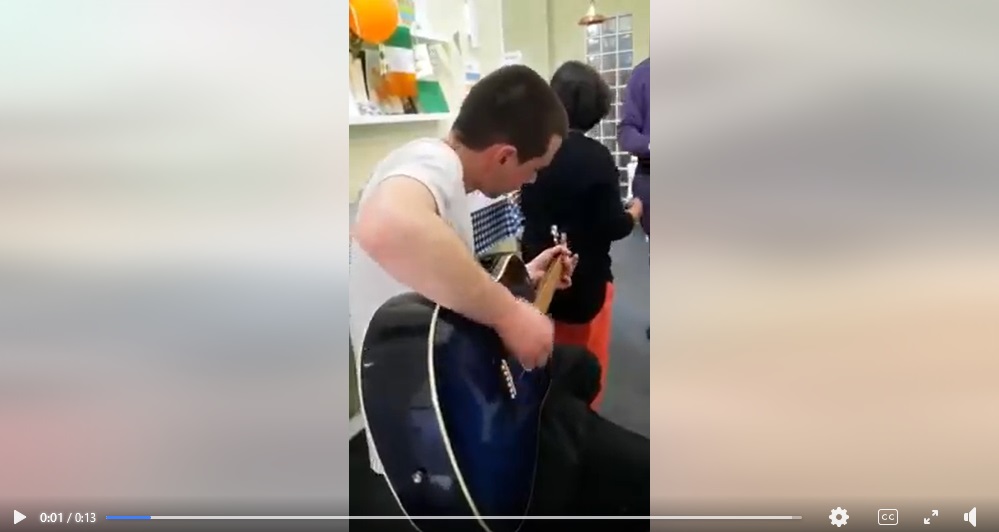 Visitors have also enjoyed regular musical sessions with guitarist Tom Halpenny and keyboard player Pete, from Musicus, where everyone participates by accompanying the musicians on percussion instruments and singing. Our Lady of Grace Infant School choir accompanied by their music teacher Stephen Sharland brought great joy to the café when they performed for St Patrick's Day and again to celebrate summer. The Green Doctors provided a very informative session giving advice on energy saving issues and we had an art appreciation afternoon led by the Wallace collection museum.
The Café's four regular and dedicated volunteers play an important role in the smooth running of activities, with Vivienne taking the group through gentle stretching and fitness activities, while Patsy ensures everyone is refreshed with a friendly cup of tea or coffee. Ann and newest volunteer Jana support art and craft activities and always end sessions with a thoughtful reflection to support inner peace. There are also regular health and safety updates and everyone living with dementia was encouraged to complete a Herbert Protocol form in the event of getting lost or going missing.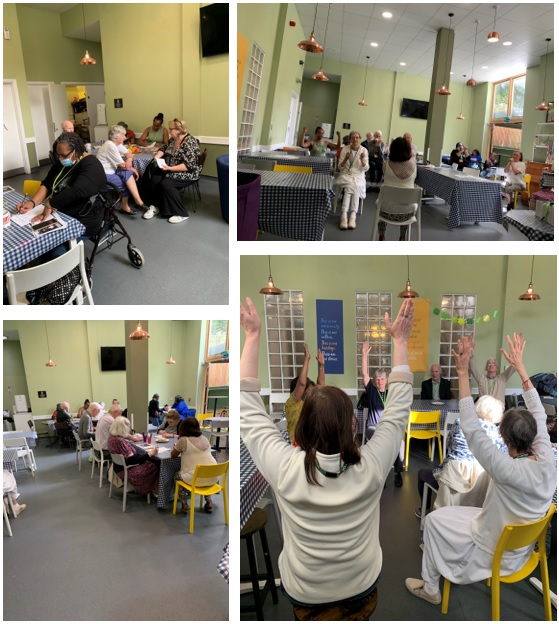 Living with a Dementia diagnosis is of course very challenging but availing of the support, advice and socialising opportunities in a friendly and familiar place, which is offered by the Dementia Café can encourage members to maintain a positive attitude to both their physical and mental wellbeing.
You can support our Dementia Café by making a donation. For more information please contact Michele by email ap.dementiacafe@ashfordplace.org.uk
We are delighted with the wonderful support of the Zurich Community Trust who have ensured that the café has continued throughout Covid-19 and beyond. Thank you.