A scheme devised by and for people living with dementia is enabling them to share their experiences and provide support for carers.
I am a single woman of a certain age. I have Alzheimer's disease and I live alone without a carer. I manage as best I can, but I am often in terror of inevitable future deterioration.
It began about two years ago, gradually, with the confusion of not being able to do familiar things, losing things and getting lost on the way to familiar places.
New identity
There were many hospital tests and then the shocking diagnosis. A further shock was finding there are no effective treatments for Alzheimer's. Suddenly I was forced to stop working – I am a psychotherapist and have to be accredited annually by colleagues – and I had a new identity: a person living with Alzheimer's.
About the time I was diagnosed, the London borough of Brent was diving into financial hell. For a few blessed months I received monthly visits from a dementia nurse, also named Hazel, but when she left her job no one replaced her. The absence of dementia services for people living alone without a carer in south Brent was a huge blow to me. There was no structure available and no way to meet other people who had been diagnosed.
Being an ex-social worker and psychotherapist, I was gradually able to gather some of my old strident self and make a bit of a protest about the lack of services, particularly in my local area of south Brent, to whoever would listen. For a long time, no one did.
Then I joined the committee of the Dementia Peer Support Project based at Ashford Place in Cricklewood. The project is run by and for people with dementia, with the support of a professional project lead. For the first time since I was diagnosed, I feel I have a voice and can start making a difference.
For the first time since I was diagnosed, I feel I have a voice and can start making a difference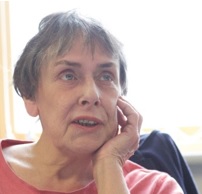 Hazel Robinson is a peer supporter for the Dementia Peer Support Project, Brent, London
Activity range
While most programmes supporting people who have dementia are run by medical professionals, the Dementia Peer Support Service encourages the people living with the condition to design and deliver a range of activities for everyone. This is what I do with my fellow peer supporter Dianne Campbell, who was diagnosed when she was in her late 40s and is a pillar of strength for me and other members of the group. We meet fortnightly and activities include expeditions to museums and galleries, art classes and listening to invited speakers.
We also raise awareness of dementia in the community by sharing experiences of diagnosis and what can help on a day-to-day basis.
Clementine Femiola has been employed to oversee the project and she is a powerhouse of energy and determination. Coming to the group and hearing others talk helps people to open up. It also helps the carers who are trying to understand how to support their loved ones.
For more information please contact Clementine on 020 8208 8590 or email clementine.femiola@ashfordplace.org.uk.
This article was taken from: Nursing for Older People (The journal produced by Royal College of Nursing)
To view the original article, click here.