27.09.2021
This week saw the launch of our brand new state of the art Wellbeing Place. The bespoke glass conservatory, with bi-folding doors and retractable roof was designed and built by Horizon Builders Ltd with the financial support of the Wolfson Foundation , Brent NCIL programme, and New Leaf Gardening Ltd, and formally opened by the Mayor of Brent. The design of The Wellbeing Place makes it possible to open up completely on warm, sunny days and will bring light and heat in during the winter months and has been built as an extension to the existing Side Door Cafe. The venue will be used for Ashford Place's continuing work with vulnerable Brent residents.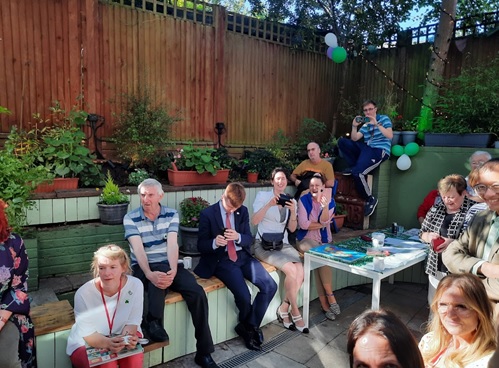 The grand opening was enjoyed by Ashford Place's clients on one of the warmest September days on record and was attended by representatives of Brent Council, Irish Embassy, the Wolfson Foundation, Brent NCIL and Accumulate.
After the lunch and launch, music was provided by Geraldine and the Nighthawks as guests enjoyed an afternoon of dancing and socialising.
Renee Gallagher who masterminded the development of the project with her able team said 'despite setbacks such as late delivery and tripling costs of materials due to supply chain problems – Brexit and Covid-19 – we were able to bring this project in on time. We want to expand our wellbeing place offer to more vulnerable people in our community and so very much look forward to providing a welcoming, comfortable nurturing space'.