17.03.2021
Despite Covid-19 restrictions we still managed to celebrate St Patrick's Day. Mindful of the restrictions we had small socially isolated groups attend for a St Patrick's Day cuppa plus a delicious Irish take away lunch.
Some of our clients enjoyed a small yet fun-filled, socially distanced St. Patrick's Day celebration at Ashford Place this week. It was great to see all the Irish eyes smiling as they came through the door! Each and every one of our clients were dressed in their St. Patrick's Day finest and it brought great life and excitement to the place once again. They were all made feel comfortable and treated to a nice cup of tea and coffee while they waited for a takeaway brunch. They came armed with their great singing voices and we had some lovely Irish traditional songs sung to us by Danny Lonergan and Richard Cullinane. The building was raised with the sweet sound of Irish music and laughter drifting through the hallways.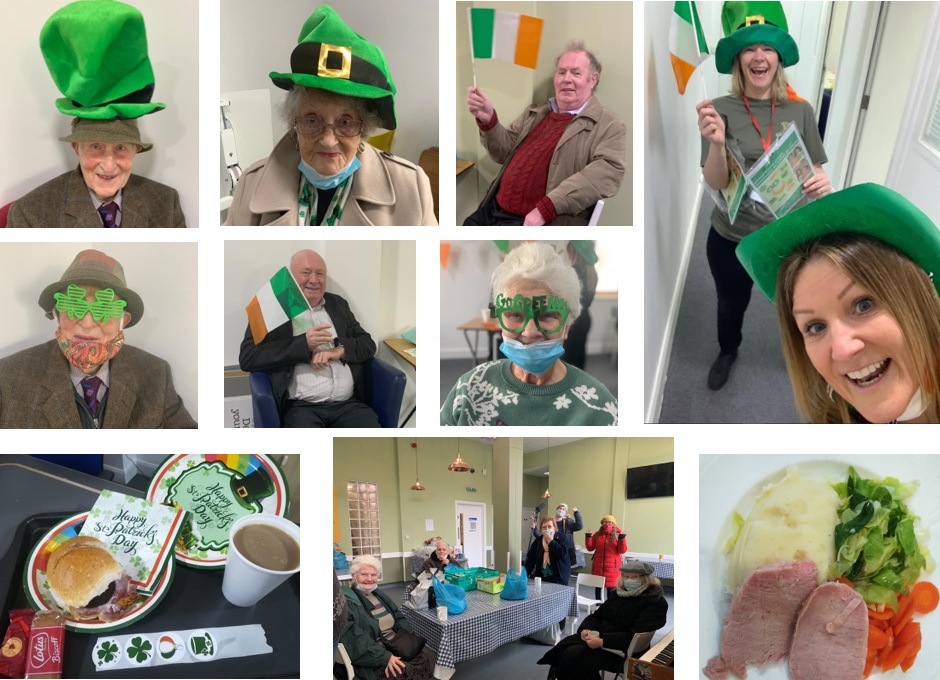 We played a very special video message to our clients from Adrian O'Neill, Ireland's Ambassador which was received with great thanks by everyone in Ashford Place.
There was a great sense of happiness and hope about the place on St. Patrick's Day this year unlike last year when it we started on this uncertain journey. We have definitely come out the other side of the pandemic full of optimism and we look forward to having more celebrations together in the year ahead.
All our clients were treated to a very tasty takeaway traditional Irish lunch of bacon and cabbage to enjoy with the thoughts of a great St. Patrick's Day dancing in their minds.
Thanks to the small group of clients who came yesterday and we look forward to seeing more and more of you as time moves on.
It was a great opportunity for some of our clients who haven't seen each other for a long time to catch up and feel their community is still united.