"Surely, in this so-called enlightened age, we should judge each other as individuals and not by the country we happen to be born in." Letter from an English reader, Willesden Chronicle, 22 May 1964.
The wider Cricklewood area had a long tradition of welcoming new communities. In the early 20th century, large populations of Jewish and Irish arrived. After the WWII, new migrants from the West Indies, and elsewhere in the Commonwealth arrived, including Cyprus and India. There was also a notable Polish community, with a Polish language Saturday School set up for children who had arrived as refugees during the war.
This history possibly made it easier for new communities to integrate and be accepted. However, there was some animosity, largely centred on fears of a loss of English identity and culture. A book from 1954, 'Willesden, An official Guide', produced by the local council, noted "Nowadays the movement of population into and out of Willesden is a factor which greatly hampers the fostering of a true civic pride. Probably not more than one quarter of the present adult population were born here". (Before the creation of Brent in 1965, Cricklewood was within the Metropolitan Borough of Willesden,)
On coming to a new country, there were struggles to be overcome. For Pakistanis, finding familiar food was difficult at first. Many of the first businesses started by migrants were shops catering to the community.
For the young Irish, there were difficulties being away from their families in the big city, and loneliness was a problem for men in particular.
"Most of the Irish when they came here they were young, young. And there was no place for them to go, only to meet their friends in a pub. A lot of them never drank – living in rural Ireland they didn't drink in those days, and, really, they were almost pushed into it. Unfortunately, there was nowhere else to go …" Daniel Foley, Mayo, Ireland, 1945
While most of the migrants arriving in the 1950s and '60s recall how welcoming their English neighbours were, there were some who resented the new-comers. Names like 'Paddy' and 'Paki' were intended to make people feel inferior, but most people rose above the insults.
More serious was the trouble finding accommodation, although many recall the problems were less in Cricklewood than elsewhere.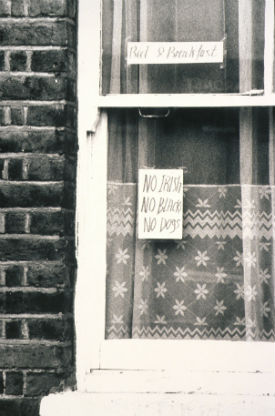 "I went to look at a house. I'm glad I didn't buy it because they lady said she wouldn't sell to coloureds…. We'd never heard anything like that." Mohammed Khan, Mombasa, Kenya, 1938
"You did see the signs, and it wasn't just Irish – no blacks, no dogs – whatever. It was quite horrible to see." Rosemary Foley, Kingsbury, 1948
"These shops at the time were grocers and butchers, because the Pakistanis, there's only certain things they can eat; they can only eat halal meat … The grocers they were selling products like spices, rice…" Tariq Dar, Jhelum, Pakistan, 1952