10.02.2022
We continue to support our older community via our befriending service and over the last 12 months we have seen a steady increase in new clients requiring our service.
We currently have 224 clients availing of our befriending service either by phone or face to face contact. 40% regularly coming through our doors, once or twice weekly, availing of our daily lunch service, our weekly exercise group, our weekly support group, baking or singing groups. We will always encourage these clients who are able to make the journey, to continue to come to Ashford Place once or twice weekly to enhance their wellbeing and physical health. Many new friendships have been forged by introducing our befriendees to other service users.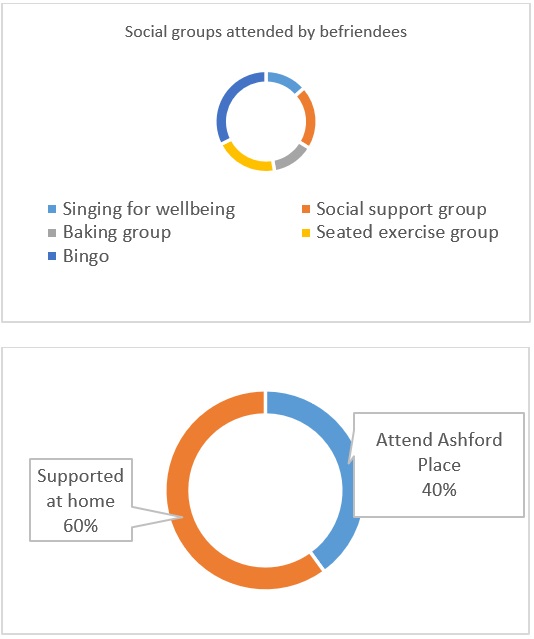 We currently have four befriendees residing in care homes. Our befriending team continue to keep regular contact with the care home staff and ensure our clients know we are calling and sending our best wishes to them. We hope to be able to visit them again as soon as visitor restrictions are eased.
The fallout of the pandemic has had an effect on some of our befriendees physical health and confidence. Some who used to attend Ashford Place regularly feel that they may no longer physically be able to do so as they have lost confidence in their movement and ability to make the journey on public transport. Contracting the virus and this continues to be a big concern for many of them.
Those of our befriendees who cannot visit Ashford Place in person are continually supported by our befriending teams by telephone and receive home visits to suit their needs.