This exciting new venture is born out of the feedback from the people using the mental health services at Ashford Place. During Lockdown we have been working hard to keep people feeling connected and continue working with people online and on the phone. Now more than ever people with lived experience of mental health difficulties living in Brent are looking to community action to change things. Brent Thrive is a mental health community action grass-roots project committed to change! We would love you to join us at our zoom launch. Our beautiful logo has been designed by a talented young woman who uses our services at Ashford Place!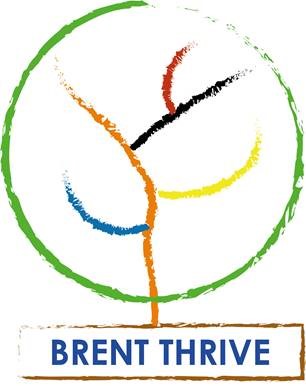 We are Brent Thrive
Brent Thrive is a mental health community action project formed to rethink the conversation around mental health and implement change. We are a project made up of people with lived experience. Our aim is to empower people in our community to form a collective power to create meaningful change in order to reinvigorate mental health services in Brent. We want to build collective power in the face of adversity.
Our aims
Challenging the stigma surrounding mental health

Amplifying minority voices and providing a platform for community leaders to enact change

Creating infrastructure of services and groups that are led by people with lived experience from within Brent

Identifying and providing support for people with a lived experience to take up political roles

Promote greater awareness and understanding of mental health across Brent

Creating a welcoming and accessible community

Use of practices that help diverse groups work well towards complex and challenging outcomes and understand that we all need support to grow and develop
Our Vision
We envision Brent Thrive becoming a staple in the community as a resource for mental health support, information and provision development. We are dedicated to creating change and building on the needs of our community in order to facilitate growth from the ground up. We believe awareness offers the opportunity to create the world we want to see. This starts with our interactions with others, the community spaces we are part of and the organisations we create. We will use this to inform our decisions so we can better collaborate with the groups most affected by injustice.
Challenging the stigma
Unifying diverse Brent communities across ethnic and religious backgrounds

Facilitating groups and enabling an open, safe and stigma free environment so members can flourish

Involving young people from an early stage in order to educate and stimulate the conversation around mental health distress

Working as an access point for less engaged community members.
Amplifying minority voices
We want to have people with lived experience at the forefront of all change in order to address the systemic racism within mental health

Addressing the overrepresentation of BAME groups in arrest and prosecution rates, abuse of acute mental services

Addressing the lack of mental health services offered for BAME groups

Addressing why and how mental health difficulties disproportionately affect BAME groups

Providing a platform and a jumping off point for Brent Thrive BAME group

We want to nurture and develop collective leadership within minority voices.
Our Services and Groups
BAME support groups

Sport as a vehicle for conversation- collaboration with local football and rugby teams

Education and confidence building through sports

Using the arts to encourage creativity and expression

Regular community meetings in order to be part of the decision making process and discuss direct action steps

The importance of clean green accessible environment to mental health

Connecting the community to their environment through clean up actions- our partnership with Thames21; upcoming Brent Thrive allotment.
Political Activism
Aim to have community members with lived experience have a position on council or on a government led group/board#

Engagement with Brent Youth Parliament
Compassionate Values
We are dedicated to being a wholly inclusive organisation rooted in equality, respect and compassion

Our aim is to foster an open and positive dialogue with you, but we have a zero tolerance policy towards offensive language and behaviour.

Any constructive feedback is warmly welcomed
>> Follow us on Instagram